Orange & Mango x12 Pack
Pressed Juice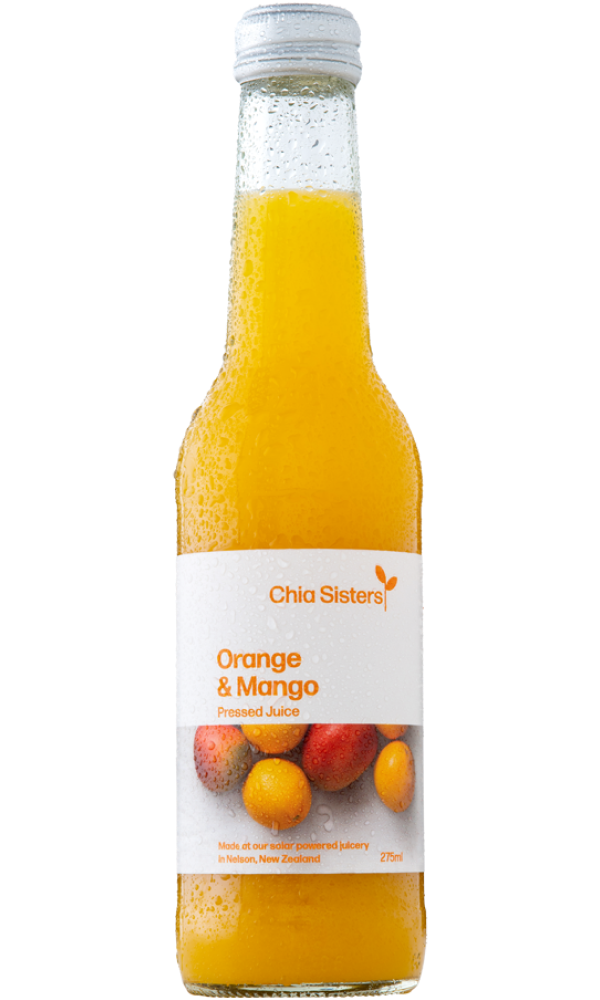 Nature's refreshment
We keep our juices simple — just as nature intended them to be. This drink is a blend of orange juice, mango puree, and pressed juice from Nelson apples. 
All ingredients are completely natural and sourced locally where possible.
Nutrition Information & Ingredients
Shipping
Supporting our world
one sip at a time
All-natural Ingredients
B Corp Certified
Zero carbon Certified
New Zealand Made
Living Wage Employer
Climate Positive Certified
Made using solar power
One of the ways we honour our responsibility to care for the planet is through our solar-powered juicery. With 32 solar panels lined across our juicery's roof, we can harness up to 16,000 kilowatts of energy per hour of sunlight. On sunny days, we produce more kilowatts than we need — so we send any excess energy back to the grid for others to use.
Learn more
4.9
Reviews
4 Reviews
Love it!
Another fantastic Chia Sisters product!
New Zealand
Love the drinks!
Delicious!
Lessons from our Fruity Tale initiative with WWF New Zealand
By supporting WWF's critical work to help restore the Hauraki Gulf, our Fruity Tale limited edition juice showed that small businesses can make a big impact.
Read the story