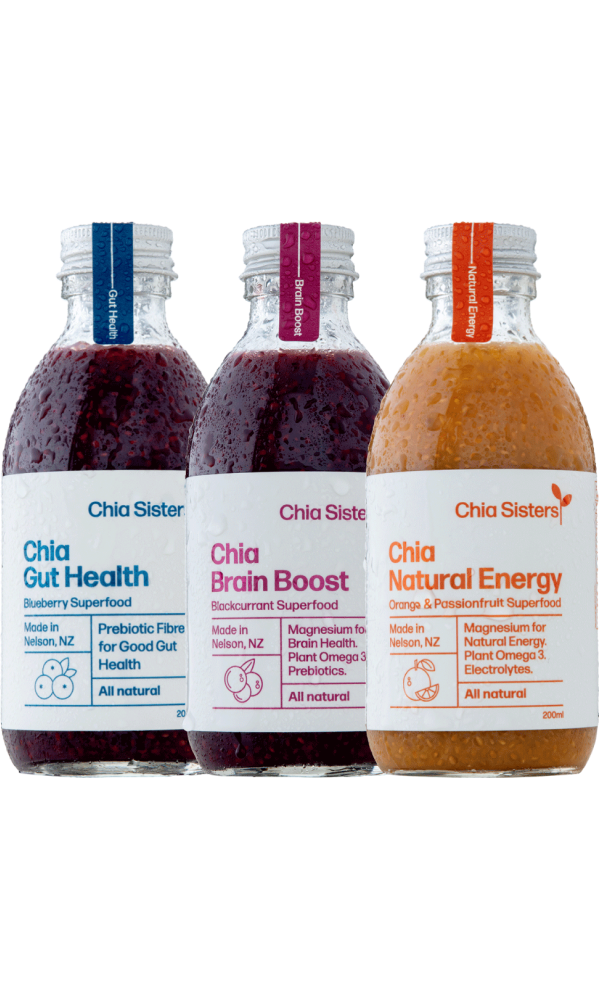 Made to support busy days
Our Chia Superfood Drinks are produced using custom-built technology that allows us to hydrate every single chia seed to fully activate all nutrients.
Once hydrated, the seeds are mixed with carefully formulated blends of fruits and berries to create three drinks that support different functions; Brain Boost for focus, Natural Energy for endurance, and Gut Health for digestion.
Supporting our world
one sip at a time
All-natural Ingredients
B Corp Certified
Zero carbon Certified
New Zealand Made
Living Wage Employer
Climate Positive Certified
The innovation behind our hydrated chia seeds
To fully activate the nutrients in chia seeds, they must be hydrated individually. Over two years of experimentation with Callaghan Innovation, we developed a custom technology that allows us to hydrate every seed, unlocking the power of their natural benefits.
Learn more
4.9
Reviews
4 Reviews
Love it!
Another fantastic Chia Sisters product!
New Zealand
Love the drinks!
Delicious!
Amanda Foubister's honest approach to nutrition
We chat with a world-class nutritionist Amanda Foubister about her down-to-earth philosophy – and our part in it.
Read the story