Biohoney's Terry Bone: bees need us, too.
As we fight the last of the winter chills, our Immunity Tonic has been an elixir for our team. It's made with Mānuka honey, lemon, ginger, and turmeric – a powerful combination for immunity. We source our Mānuka honey from Biohoney. It's a local, innovative and values-driven business that produces the purest honey products while empowering the bee guardians who put hive health before profit. It's all made possible by local legend and honey expert Terry Bone.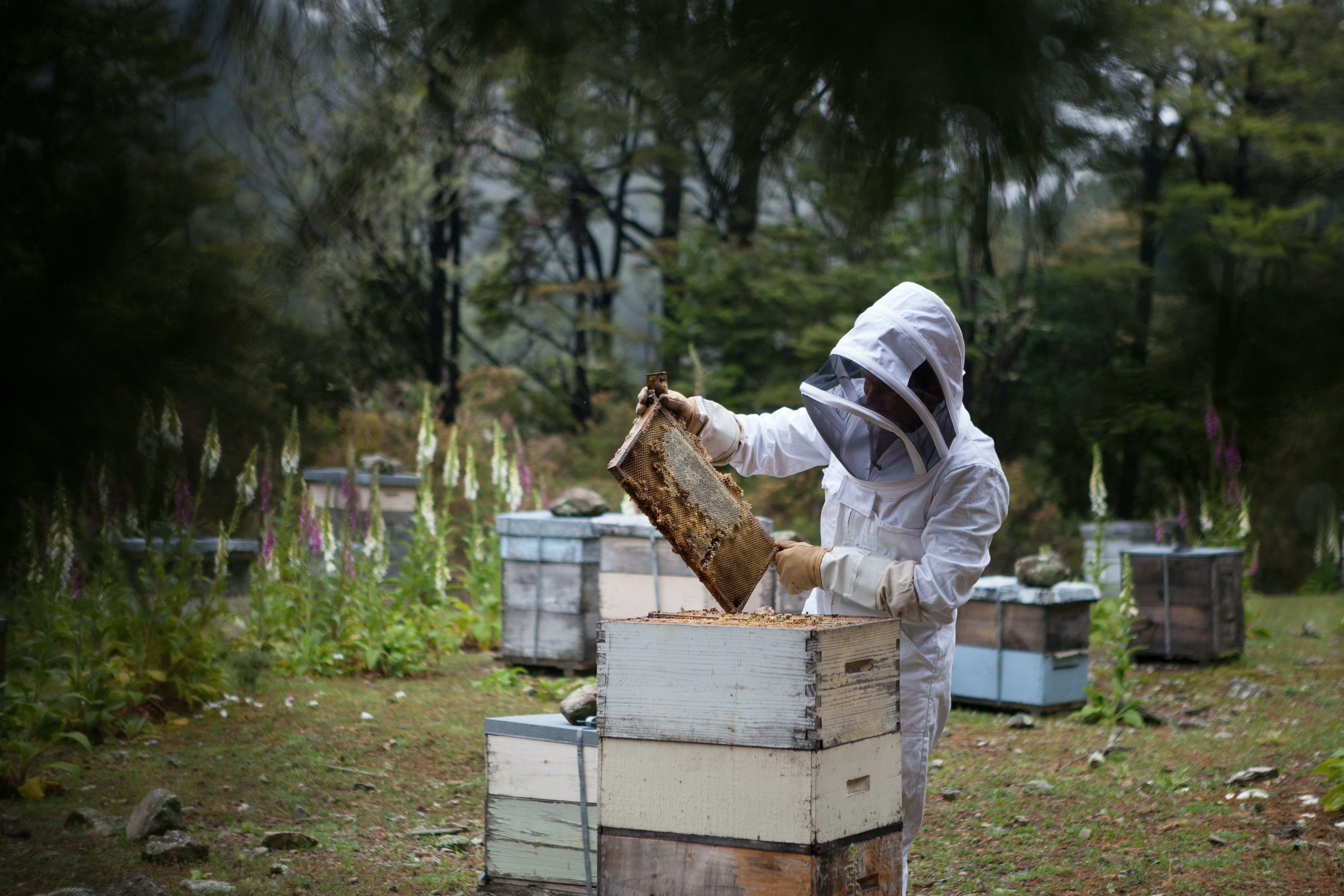 We chat with our Mānuka honey supplier about the special bonds between bees, beekeepers, and business.
Take a peek inside pantries all over New Zealand and you'll probably find a jar of Mānuka honey. The natural antibacterial properties, made only from native mānuka, can be used to treat all sorts of ailments – sorethroats, wounds, eczema, and even acne! Ancient wisdom and modern science agree that mānuka honey is a golden elixir for our wellbeing.
And we couldn't make our award-winning Immunity Tonic without it – or the bees, the beekeepers, and the local legend who brings them together in such a special way.
Terry Bone is the owner and chief 'Honeyman' at BioHoney in Nelson, New Zealand. He built his innovative business to create effective andethical products, made with the purest South Island honey, sourced from bee guardians who put hive health before profit.
 We caught up with Terry to learn more about the symbiotic relationships between people and bees, and between businesses that do good things and grow together.
How it all started.
Like many business connections, our friendship with Terry started far from the office! Terry's a competitive ocean swimmer. He's broken records and won golds for endurance swimming here in Nelson, New Zealand. That's how he met Ben Van Dyke, a world champion swimmer, triathlete, and father of the Chia Sisters, Chloe and Florence.
‍Before he started BioHoney, Terry's job managing a regional honey company showed him the crucial role bees play in our complex ecosystem. With a love of bees and natural products, Terry became part of a community of beekeepers who care for their bees using generational methods and produce the purest raw honey. He learned about the interdependence between people and bees, and the importance of empowering the people who look after these small yet mighty creatures.
Terry decided to start his own honey business that would put this knowledge and the importance of bee guardianship front and centre.
"I worked on BioHoney in the evenings and weekends. It was hard work and so busy, but when the day finally came that I could quit my full-time job, it was amazing. And it's grown since then."
What makes BioHoney's products so special?
As pure as nature intended.
BioHoney's raw Mānuka honey is sourced only from Terry's carefully-selected bee guardians in the South Island, New Zealand. This means the Mānuka honey that makes the powerful foundation of our Immunity Tonic is lovingly sourced and straight from the hive–  just as the bee guardians and Māori ancestors have always used it.
The purity of Mānuka honey is measured using a system called UMF, or 'unique mānuka factor'. The higher the UMF, the greater the presence of Leptosperin, DHA and Methylglyoxal – the compounds that give mānuka honey its medicinal potency.
A simpler way to grade honey is the MGO system, which just measures the presence of Methylglyoxal – the most active antibacterial and anti-inflammatory compound in honey. BioHoney's raw honey products contain MGO levels of up to 1200. As well as raw honey, Terry's developed a range of effective skincare, acne treatment, and throat lozenges.
Carefully selected from bee guardians.
Terry has a tight-knit network of bee guardians who share the BioHoney ethos of sustainable, ethical, and regenerative beekeeping. Thanks to these relationships, Terry can take the best honey from each beekeeper's harvest before it's sold in bulk to larger producers. It's a discerning process, valuing quality over quantity.
 "Bee guardians have kept it in the family for several generations and they're not just in it to make money. They share our belief in doing what's right for the bees and their environment."
 We asked Terry, how does he know if a beekeeper is a bee guardian? "It's quite instinctive. When I see beekeepers who are calm and comfortable with their bees, I know they share our ethos. They're old-school, take their time, and because of that don't need to wear a lot of protective clothing. So that's always a telltale sign!"
These relationships are great for the beekeepers, too. Even if they produce a lot of quality honey, it can be hard to find a good buyer that pays a fair price. Terry's proud that BioHoney provides bee guardians with rewarding partnerships and assurance that the honey will be used with love and respect.
We need bees and they need us.
It's hard to explain just how much we rely on bees. They pollinate up to 71% of our food crops. But the world around us isn't just the stuff we eat. Our environment thrives on complex ecosystems, biodiversity, and interconnected relationships between plants, animals, and the soil.
It's a delicate balance, and without bees pollinating, it would collapse. That's why Terry's work is so crucial to protecting the bees – because they need us, too:
 "The deadly Varroa mite kills off entire hives much faster than they can adapt. Without our help, they'll disappear. Beekeepers use treatment strips twice per year to eliminate the mites and protect our bees."
Mānuka Biohoney is the powerful foundation of our Immunity Tonic
We're proud to use Bioney to produce an award-winning drink that supports your everyday wellness as well as healthy hives. The Immunity Tonic is a unique blend of traditional ingredients, world-renowned for their healing properties – mānuka honey, ginger, and turmeric.
Combined with Gisborne lemon and apple juice, the result is an elixir that boosts and protects your immune system, with over125% of your vitamin C RDI per serve.
Versatile for all morning and night time routines. Enjoy Immunity Tonic as a comforting hot tonic, a fresh smoothie enhancer, or a wake-up shot (if you're brave!).
Businesses need each other, too.
Our interdependent relationship with bees reminds us of our connections with BioHoney and other local suppliers. We're so grateful to Terry for supporting our business as it's grown, and sharing his precious honey so our drinks can be even more powerful.
Just like Terry and his bee guardians, our supplier relationships are built on shared values: creating the best products, with the purest ingredients, and making sure our environment is well looked after.
We meet our suppliers in our inbox, through mutual friends, and sometimes in the ocean (!), but we always come back to those values. And when we support each other, we grow together.
‍