Meet the team: Jojo (the one conducting dispatch mastery)
Jo joined Chia Sisters in 2020, starting out on the production line, and for the last 8 months she's been working her magic in dispatch, juggling orders, playing courier matchmaker, and packing orders like a pro. Jo is not only a rockstar in our team, she also keeps up with a part-time admin role for Community Compost, has an adult daughter, teenage son and grandson, and has a passion for music and events that keeps her life bustling with creativity outside of her busy work schedule. We had a chat with Jo about her journey with Chia Sisters.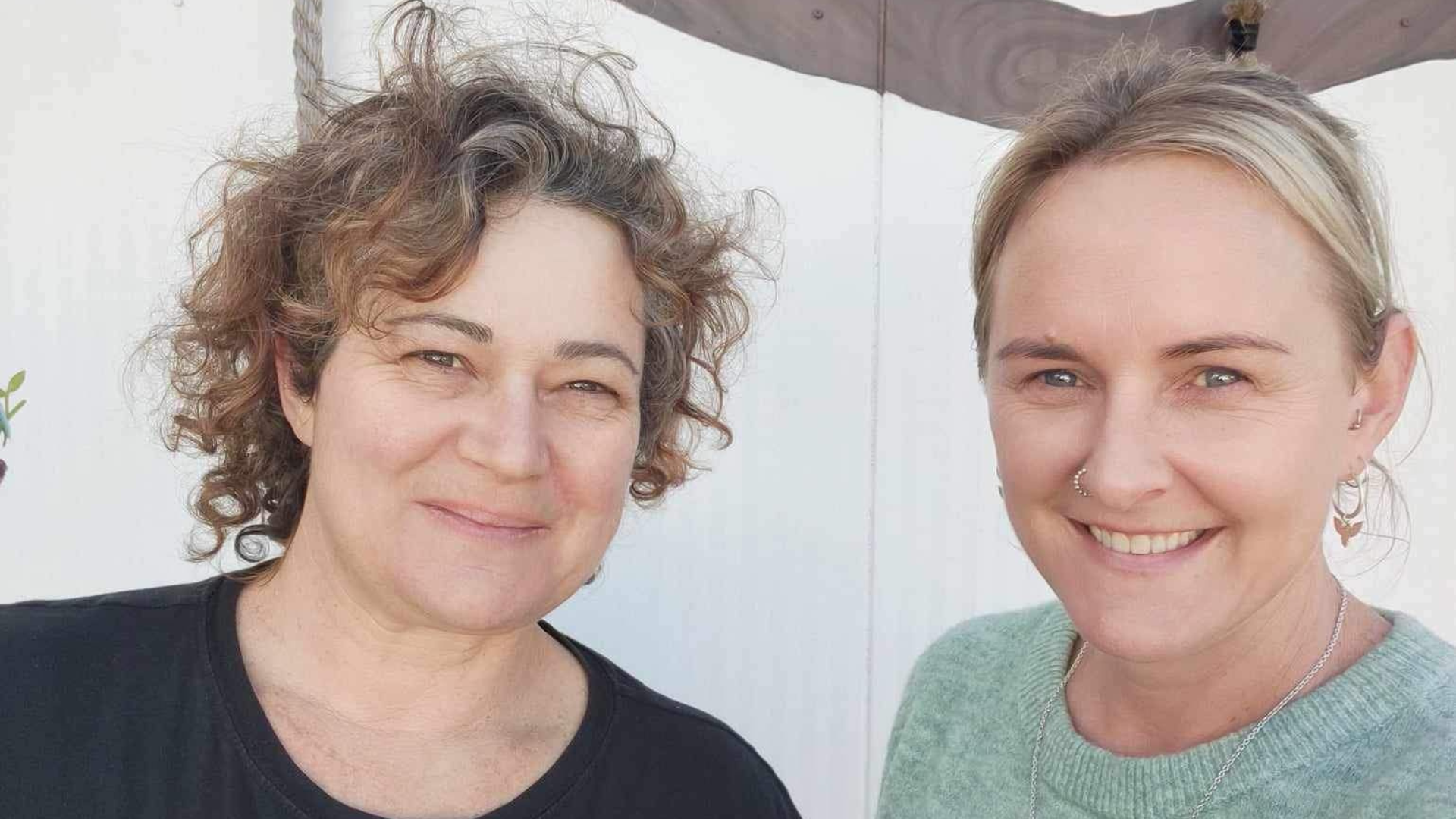 Jojo Cook, left, pictured with our Orders Manager, Lisa
What drew you to your first role with Chia Sisters?
I was previously in the same job for 20+ years working for a small family business and they retired in 2019. I took some time to figure out my next plan and had some work with Community Compost as well as music and events, working on the door, driving, stagehand and backstage etc. One day I noticed Chia Sisters was advertising for a role and I lived nearby and it felt like the right fit.

What drew me to working with Chia Sisters was the combination of lovely people, flexible hours, delicious drinks, and the physical aspect of it. Having just been through a couple of significant changes to my life I was able to listen to music and podcasts in my headphones and go into my own world to process until I had adjusted to working in a team. It's the little things that have really made it - the stability of full-time work, the supportive team, and proximity to home and school. I really enjoy being part of a team; we're social but we get on with it. They're my work family and mean a lot to me. We're all cranking to get stuff done, and that's important to me having grown up working hard.
Dispatch is a demanding role. What are some ways you manage the busy schedules and logistics?
I listen to the radio, music, and podcasts, and that keeps the back of my brain occupied while doing logistics. I've learned not to rush, the work will be better if I focus and ask for help when it's needed. Asking for help has been a big learning curve for me. I use my time wisely at the end of the day to prepare for the next day - you never know what the next day is going to bring.

I grew up on the Solomon Islands, and when we got supplies we had to carry a lot of boxes up the hill, up lots of steps. When I started in Dispatch, one of the things I really enjoyed were those familiar senses - physically shifting boxes, the sound of welding next door, the chatter nearby, the wind blowing; I grew up above a shipyard so I find it all comforting, it makes me feel at home.
Is there a Chia Sisters value that you particularly admire, and how does this influence your work?
I really love that one of the first things that Florence and Chloe (Chia Sisters Founders) said to me was that they want to support what I'm doing outside of work. They said "We love that you're into events and music." Everyone here is into something, we're all active outside of work, and it's all really supported. It's important to me that we're recognised as whole people outside of Chia Sisters.
What are your personal goals outside of work?
Right now I'm in a contented phase. I'm still really focused on my son, Solomon, who is now 16. I'm still enjoying my role with Community Compost which is around 5-8 hours a week depending on the week. My music friends are really important to me, and I can now appreciate when I do go to a gig or a show that I can enjoy on a different level. I'm also really wanting to get stuck into my garden more and more this season!
What's been your most memorable experience during your time here?
This happened with our team outside of work. We went for a team mountain bike ride, and Anita had lent me an electric bike. Another member of our team had bought a bike that wasn't electric and was finding it hard so I offered to swap. Off we went and I was struggling, out of breath, so Kevin (our Production Manager) whipped out an inner tube and joined the tube onto his bike to help me up the hill. That's our team commitment - Kevin is always backing us up. No one hassled me for it. It made it very memorable but we've had lots of social days like that, a lot of hilarity, (especially with Anita!) and that helps with those long days. 
Can you remember some of the biggest days you've had?
One day in particular - I shifted over 800 boxes in one day. Before that the most I had shifted by myself was 444. That day was an anomaly, but it made me realise I have that stamina! And I take pride in that.
What are some key learnings about Dispatch that you now know?
I definitely thought it would be easier than it is, and I underestimated how much I would enjoy it. I'm always learning. I've learned there are many ways to make mistakes. I've got quite good at steering pallets around on a pallet loader, my tetris abilities are much better! And I'm looking forward to learning how to drive the forklift. I'm going to get my licence and that will make life a bit easier, I won't have to be so reliant on other people.
What do you think everyone should know about Chia Sisters that they probably don't?
I think a lot of people would be surprised to know that we're a small team, for what we're doing and the growth we've had in the last few years particularly. Everyone has their defined roles but we often back each other up when needed. People ask if there are seasonal workers, but there's only ever a couple of people on the production line, and we have a couple of casual people come and help when we need a hand.
What's your favourite Chia Sisters drink?
I've got four favourites. My most favourite ever is the
Immunity Tonic
- we won NZ's best drink for this! I love
Sparkling Boysenberry
because it's everything Nelson. My favourite Chia drink is
Natural Energy
with orange and passionfruit. And my favourite smoothie is the
Cacao Superfood
.