Creating a Waste-Free Workplace
Heading back into the office after life in red alert? Kick off the return-to-work with a few simple and sustainable steps from our friends at Reusabowl.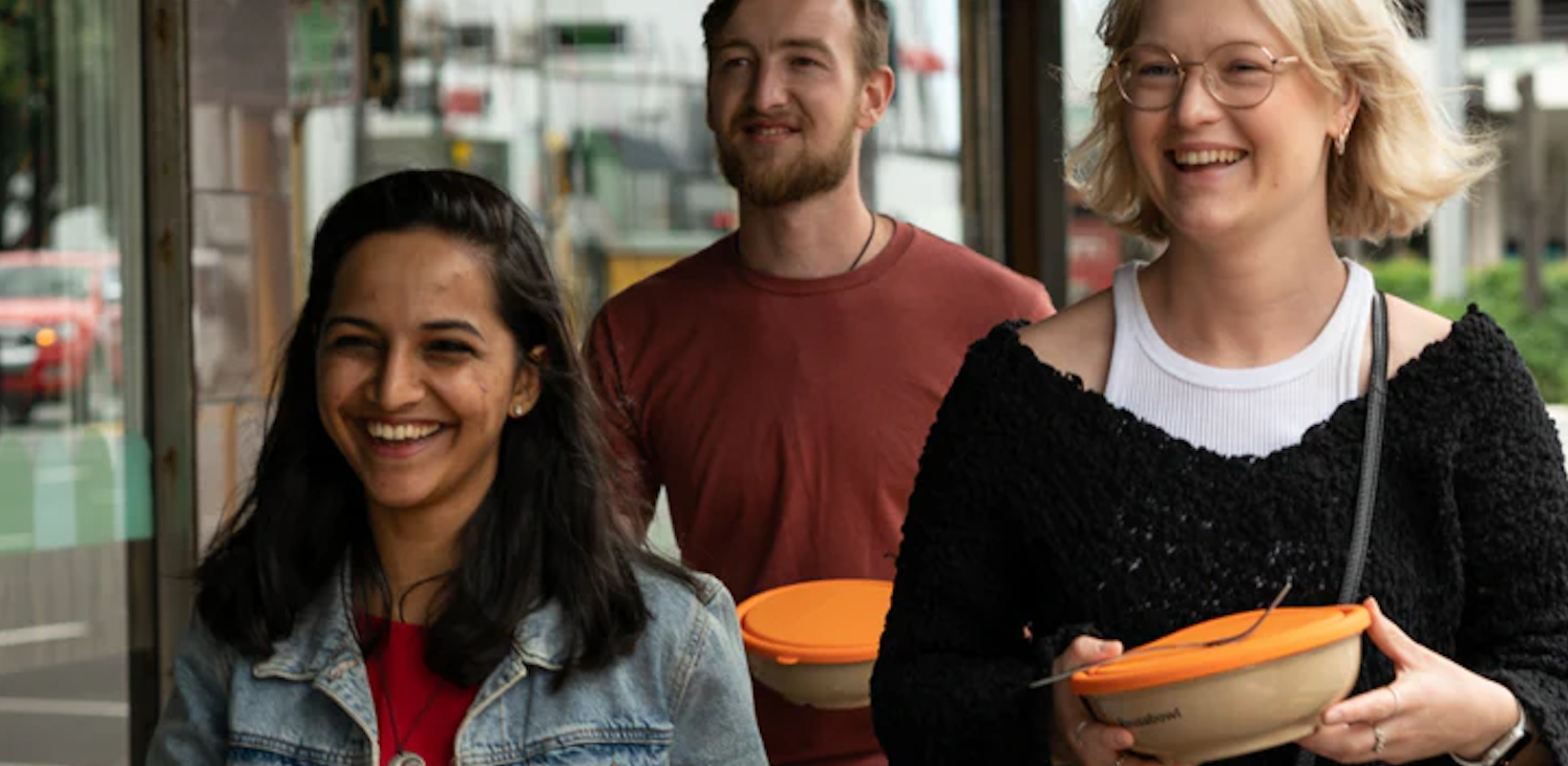 There are so many reasons to celebrate right now as we end our summer months in Aotearoa. We're seeing the return of large-scale events and international visitors, with travel opening up and families and friends reuniting. Working from home definitely has its perks, but with CBDs and main centres becoming more vibrant, many of us are gearing up to make the commute back into the office more often.
As workers return to the office, this puts more pressure on the workplace to become a reflection of those workers' values. Waste features in 3 of the top 10 concerns on Kiwis' minds in 2022, so it makes sense that the modern workplaces should step-up their waste game as they experience a return-to-work for many of their staff.
So, how can we help make your return to work a little less 'wastey'?
Well, luckily our friends at Reusabowl have experience in all things waste-reduction and have put together a helpful list of key tips to improve your return-to-work by making it easy to eliminate waste.
‍
Top 10 Tips to Avoiding the Tip!
‍
1. Green Team
Forming a 'Green Team' is an essential part of implementing sustainability initiatives within any organisation. The theory is basic - a bunch of the more 'green' or 'eco' members of staff form a group and initiate sustainability initiatives. Use the following recommendations as a base.
‍
2. Measure
You don't know what you don't measure, and you can't improve if you don't know where you started. Waste-audits are a great way to understand what you are wasting. It's also quite revealing. Beware of the skeletons you might discover in the bin!
‍
3. Reusables
Reusabowl (reusable packaging for takeaways) and other reusable products are a great way to encourage staff to avoid using single-use packaging and creating waste. Make sure the reusables are placed in a visible and accessible location. Signs and lunchtime rituals with the packaging are great ways to encourage less engaged staff.
‍
4. Beautiful Bins
A smelly, unsightly and confusing bin set-up would make anyone embarrassed and discourage correct use. Beautifully designed bins, like Method Recycling bins, can make using the correct waste-stream easier and more pleasant. A great example of design-in-action.
‍
5. Careful Catering
Over-catering is a huge source of food waste. This can be difficult but try your best to not over-cater and if you do end up with extra food, offer it to staff to take home, or ensure it reaches a compost bin. It's also worth asking your caterer to deliver catering on/in reusable platters and containers rather than single use plastic.
‍
6. Food Waste
One-third of all the world's food goes to waste, which accounts for 6.7% of all carbon emissions. All it needs is a little help to reach the correct (and sustainable) destination. First up is Foodprint - an app that allows you to buy discounted food from eateries before it is thrown away. Great for those afternoon cravings. But if the food is too far gone, composting is your best option. There are a number of compost collection services across New Zealand which makes it super easy to do the right thing – checkout Kai Cycle in Wellington and Community Compost in Nelson, or contact your local council for a service near you.
‍
7. 'Koha' Shelf in the Fridge
Don't you hate that scody, leaky, smelly Tupperware that's basically growing eyes in the back of the fridge? Yep, us too! Fix that problem by creating a Koha Shelf – a designated space in the fridge where people can place food they no longer want / extra food so others know it's fair game!
8. Educate the Team
Do you know which number plastics are accepted through your local recycling provider? If you answered no, you are not alone! Most Kiwi's are super confused about recycling and waste in Aotearoa. Help your team understand the wide world of waste by hosting an educational presentation or event. Hot tip - Reusabowl can host a chat - get in touch.
‍
9. Supplier Audit
Isn't it really nice when you order something for the office and it arrives wrapped in layers of unnecessary paper and plastic? Err no. Instead of hoping and waiting for things to change, get in contact with the suppliers and let them know you would prefer not to receive all the extra material. Most suppliers are on a similar journey and are really happy and keen to understand what your goals are and how they can help support your waste-free goals!
‍
10. Postage Packaging
Do you send lots of parcels or packages? If so, you might want to think about what you're wrapping your products with and if there are better options. Paper and cardboard are definitely the best (and most likely to be recycled) materials to use when posting. But even better than that is the packaging you already have! Whack a courier sticker on top of an old box and send it on. People are much more concerned about what's inside than the cardboard box that carried it!
Getting on top of these waste-free tips will set you in a good sustainable direction for the return-to-work. Outside of waste, we thought you might want two bonus tips to help you lift your sustainability game at work.
‍
Bonus Tip 1: Carpooling is Cool
Heading in the same direction? Jump in the car with someone from the office and save some carbon, have some laughs and complain about the cost of living - all before 9am. NZ company Hitch is making carpooling super easy for workplaces. Check 'em out today! Of course, walking or cycling is even better.
‍
Bonus Tip 2: Buy Local and Support Social Enterprises
Our wallet is one of our more powerful tools to help affect change. Whenever we spend our money, we are basically saying to the organisation 'We support you. Make more of this please!'. However, identifying who the 'good guys' are makes it difficult to choose ethical and sustainable products and services. Until now! Akina have created a super useful directory for corporates wanting to make a difference with their procurement decisions. Sign up to be an impact buyer with Akina and support local social enterprises like Chia Sisters.
‍
We hope these tips were useful in giving you some simple, actionable steps to reduce waste in your workplace.
If you would like any more info on these tips or would like to stock Reusabowl's packaging in your office, get in touch with the team at hello@reusabowl.nz or on 027 363 2247 - they would be stoked to hear from you.