Kevin Toughey on using Chia for performance
A qualified engineer and former big wave surfer, our production manager Kevin Toughey is happiest when in the wilderness with his bike. Riding roughly four times per week, he's clocked 3089 kilometres and approximately 129,593 metres of elevation so far this year - and that doesn't include the running he manages to fit into his schedule. With top ten placings in both Aorere and Phoenix Enduro World Series qualifiers, we sat down with Kev to talk about how he uses the Chia functional drinks to fuel his performance.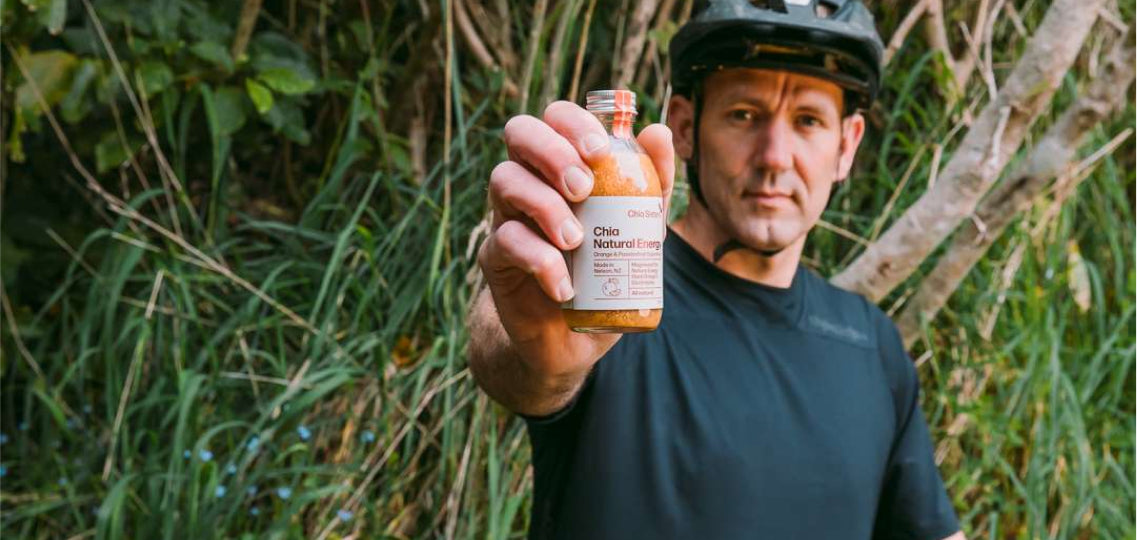 Why did you start using Chia functionals in your training and racing regime?
I used to race cross country, and everybody tells you to take these goos and gels to keep your energy levels up, but I always found that they actually dehydrated me faster. Whenever I took those gels I ended up drinking more water and getting the stitch, taking more bathroom breaks… So I started using Chia drinks instead. I immediately found that my levels of water intake were lower and I was a lot less thirsty during my ride.
"One race I've been doing for the last couple years is called the Mammoth, and it's exactly that. It's a mammoth ride."
I think last year we did 4000 metres of climbing in one day. The Mammoth was the first race where I decided to use Chia throughout. With that length and altitude you usually have to take so much food and liquid with you, and I figured instead of just having my Chia before and after it would be good to have some during. It worked to sustain me throughout the ride, so I've been doing it ever since!
‍
How do you use Chia to fuel you in your endurance training and racing events?
In regards to training, Chia is a standard pre-ride drink for me. I keep a box of Chia in my car and I'll have one on my way to my ride, and one after. It's good to know that I've got something there that will help me keep the same pace even when I can't take water for a while.
The day before a race I ride around and drop Chia drinks at certain points where I know I'll stop, and throughout the race I'll stop at my transition points and have a Chia drink. I find it's a great energy boost and helps me stay hydrated for a longer period of time which is a competitive advantage. The next day I ride around and pick up all my empty bottles and you'd never know they were there. No Chia drink is ever left behind!
What are your thoughts on the science behind the Chia functionals, and your future plans for this superfood?
I notice that the Chia drink provides a slow-release of energy. The chia seeds are packed with nutrients like electrolytes, magnesium, prebiotic fibre and plant omega 3 that provide additional benefits too.  
After a few years of trialing and testing it myself, I've finally decided to speak about it to a bunch of my mates. They ride and compete regularly as well, and we're going to do a trial with them to monitor the effects of the Chia drink. We're planning a 2-week test to see what they normally drink in a day, monitoring their rides and what sort of breaks they have. Then we'll ask them to use just Chia at the start of the ride and monitor how much their liquid intake changes. The aim is to investigate whether (Chia functionals) do what I think they do in a performance context.
‍
What do you enjoy most about mountain biking and competing?
The fitness aspect of riding. You see a lot of people slowing down and maybe doing nothing at my age, but hopefully I have the drive to keep myself a bit more physical and more active. I also really enjoy the buzz. When I was surfing I used to like big wave surfing and I think that's where the fun is. If it gives me a bit of adrenaline, I'll do it.
‍
Last but not least! What's your favourite flavour of Chia?
Blueberry without a doubt. Always has been!
Kevin will be riding in the social Super D series this summer and looks forward to several Enduro races throughout Tasman and Dunedin this coming March.