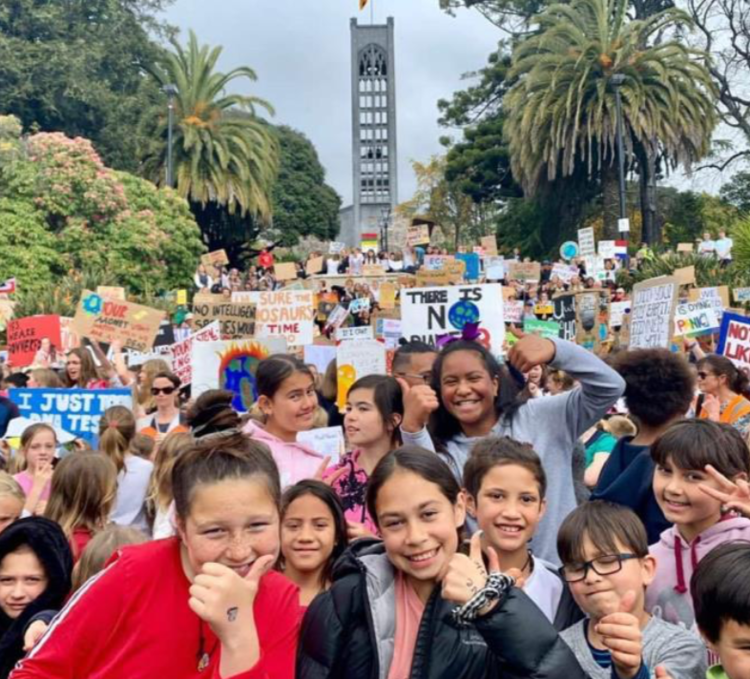 OUR VISION TO CHANGE THE WORLD
 We can change the world.
Businesses have taken from the environment for too long. We all know that nothing comes for free; there's not such thing as a free lunch, yet businesses have been profiting at the expensive of the environment . We know because we are in business too.
Our vision to change the world is to change Business as Usual. We need to change the ethos of what it means to be a business leader. As this ethos changes, and it is, we will see a greater respect for the environment and we will create a planet that future generations can enjoy. Done right this can lead to not only a better world but a profitable business model. We want three bottom lines, profit, environment, and community – and we want them to all be in the black.  
Our vision has been inspired by the greatest global issue of our generation: climate change.
We realised to make change we need to start with our company. This is our story.
Being environmental change-makers is not something that has come to us overnight. The environment has always been important to us. Our parents introduced us to the outdoors at a young age. We grew up in a family where hiking in the local National Parks was a common weekend activity; we took cardboard boxes to the supermarket rather than using plastic bags back in the 90's, we planted trees in the park across from our house in an effort to bring back native flora in our local community, and later solar panels lined the roof of our family home. 
It was at university 10 years ago that we were first confronted by the concept of climate change. I worked on the founding documents for Generation Zero, a youth-led organisation that started to champion climate change in Aotearoa in 2010 and now has a 40,000 strong following across the country. Generation Zero is responsible for the first draft of the Zero Carbon Bill, designed to make New Zealand net carbon zero by 2050, that was unanimously passed into law last month.
Generation Zero was formed by a bunch of 20 years olds. We were asking ourselves what we wanted our country to look like for the generations that came after us. What could we do to make that happen? For the very first time, we thought about the impact that our actions would have on the environment for those that came after us.
Fast forward ten years and we were running a sustainable and nutritious juice business and being confronted with the realisation that the industry we are playing in is one of the worst examples of a model based on business for profit without accountability, the Beverage industry. In waste, it accounts for the disposal of more single-use plastic than any other product type.
Despite the key players' significant profits, factory workers are more often than not paid minimum wage. Two offshore-owned corporates dominate the marketplace in New Zealand effectively blocking New Zealand companies with the genuinely nutritious and sustainable choices  consumers are ever more asking for. We decided to tackle this industry, from our very own solar-powered juicery in Nelson.
What we at Chia Sisters ultimately want to help make possible is a better future:
Where the impact on the environment from humans is positive instead of irreversibly negative because the environment is now part of the business equation and included in the balance sheet.

Where the atmosphere temperature rise is slowing now that businesses are accountable for reducing and offsetting CO2.

Where the cost to the environment is now a standard feature on every organization's business plan as we head towards a sustainable future, where we become good ancestors.
 To us, this is an entirely possible outcome. But that doesn't mean to say it is easy because it's not!   It's scary and it's hard.  Being in business is already hard, every day in business we go from cloud nine to the bottom of a pit and back. Several times over.
We are not experts in any of this but we do want to out line a few things that we are doing to include our community and environment in the way we do business and the way we are inspiring other business to follow suit.
 Twelve months ago our business was in a perilous position. The company that made and bottled our juices went into liquidation and was closing suddenly without notice. We had near permanent installation of hundreds of thousands of dollars of bottling equipment in their factory that we had painstakingly designed years before and there was no plant or manufacturing facility in the country with space to take on our equipment at such short notice. Our choice was this, close the business or move in.  It was a decision that we thought hard about. We decided to take out a bank loan and take over the factory. We were well out of our depth. To say the least.
 We had a brainstorm of how we could make use of the fact that we now had our own factory. There were a lot of negatives: we needed an updated food safety plan, we needed new employees, we needed to clean to food-grade standard. We had rates to pay and double rent while we moved in.
 But when we started brainstorming the opportunities, we realized that our "critical" position had actually turned out pretty well. We figured out that we could tighten up production and decrease our manufacturing by 10%. And most importantly it meant that we could start living and breathing the sustainability values that we had put in place when we launched our business. We could use the factory as a platform for doing good business and make a stand for ideas that were core to our business ethic.  We could take this opportunity to become closer to 'do business and do good' ethos. 
Firstly, we lined our factory roof with 32 solar panels to become New Zealand's first solar-powered juicery. [pride] The solar panels can harness up to 16,000 watts of energy from the sun each hour. Our factory uses 8,000 watts when it is at full capacity. When the sun is shining and we are creating more than we need, we send what we do not use back to the grid. 
The sun has been named, alongside wind-power, as the best future source of energy to solve climate change. It provides clean, virtually free, energy every single day. If planet Earth could harness all of the sun's energy for just two minutes it could power the Earth, as it currently stands, for an entire year. We live in the sunshine capital of New Zealand so it made sense. 
The second shift was that we hired staff that fitted our team culture and we paid them well. The whole team, including every staff member on the bottling line receive the Living Wage or higher instead of the minimum wage they were previously on. 
 The Living Wage is a great concept. It is 25% higher than the minimum wage in New Zealand and has been calculated as the hourly wage a person needs to pay for the necessities of life and most importantly participate as an active citizen in the community. Our team is our most important asset. 
How do we afford this? Because we have less staff turn around, and better productivity. Our staff are committed, reliable and we have CV's coming in daily to work for us so we can hire the best.
 Our third shift came last month when we finished our journey of becoming Carbon Neutral and Climate Change Positive Company. This means the overall activity of Chia Sisters reduces carbon in the atmosphere.  In New Zealand the main causes of carbon emissions come from food, agriculture, transport and waste. Carbon is released as fossil fuels are burned and other gases are emitted. The more carbon in the atmosphere the more greenhouse gases trapped up there the more global warming.
It started with conversations that we'd been having about climate change. In 10 years time it is predicted global warming will become irreversible. We consider ourselves, probably like many of you, to be environmentally conscious but we realised that we did not understand how to solve this problem. It seemed elusive. We knew we should eat less meat and fly less, we knew that businesses were the biggest contributor, so what could our business do? The answer was this.
1.     We didn't know how much CO2 we were producing. The solution was to measure it. We used a local company EKOS to help us calculate the greenhouse gases we produced through waste, power, freight, flights, mileage, and air conditioning. It came to a total of 22.55 Tonnes of C02 in the past year. The process itself enabled us to identify problem areas
2.     We found ways to lower our carbon emissions through generating renewable energy, reducing our waste, switching to electric vehicles, and reducing air freight.  
3.     We offset by 120% by contributing to the Rameka Carbon Sink, a native forest in Golden Bay certified under the carbon emissions scheme.
4.     We made sure this cost was built into our budget.
The fifth step and the most important one is inspiring other businesses to follow suit.  If every business went through this process it would change the world.  Sea levels would drop and weather patterns would return to pre-industrial times as temperature decreased. Global warming would be reversed.
We acknowledge that Chia Sisters is one small player in an interconnected world. Our true goal is to share our stories and lessons with others. It this that has the potential to shake up Business as Usual.
 HOW ARE WE ACCOMPLISHING THIS GOAL?
To acehive this goal we have launched Zero Carbon Nelson. We are using this as a platform to share our story and encourage others to follow suit. Zero Carbon Nelson has three goals: 1,000 Nelson businesses Zero Carbon by 2021; Zero Carbon Nelson by 2025; and Nelson as a Zero Carbon blueprint for every city globally by 2030.
Given the huge amount of public, private and iwi support and buy-in we are on track to reach these goals. And we are driven to reach these goals by bringing all along with us; we acknowledge that a transition to a climate-safe planet will only happen when we include everyone. We also acknowledge that we must pay tribute to oil companies and dairy farmers and some of the other biggest emitters for having put our country in the prosperous economic position that it is in; for the privileged upbringings we have had. Nevertheless, these cannot be barriers for a climate-safe world.
Through speeches, and workshops that we have presented in conjunction with local Council, Bank of New Zealand; PWC accounting firm; New Zealand Trade and Enterprise and Chamber of Commerce in the last quarter, hundreds of businesses are transitioning to carbon neutral including two of Nelson's top ten emitters. This is having a snowball effect on the local community. At the Nelson Climate Strikes we called out Business as Usual "What is being done to tackle climate change? This is a question that every business and organization needs to be able to answer". At the New Zealand and Australia Climate Change and Business Conference we encouraged businesses in the audience, including Fonterra and Air New Zealand to take the first step and take it now.
We are sharing with other businesses the relative simplicity of this shift. What we are experiencing is relief from those we speak to. Many businesses want to act but they don't know how. This issue has been previously painted as a threat rather than an opportunity. The issue is too big, it needs to be simplified. So we decided to open our doors and become transparent.
This is our carbon footprint. You can see what has been measured – fuels, refrigerant, company vehicles, emission losses, milage, taxis, rental cars, waste, freight, and flights. By going through this process we were able to identify the low hanging fruit. Freight is quite clearly the low hanging fruit.
 By focusing on what our biggest contributors were and how we could utilise our environment – the sun, and modern technology already available to us such as electric vehicles. For freight – we switched to sea freight. And it is worth pointing out that all of these decision made not only environmental sense but economic sense too. 
These stories are resonating with local businesses, particularly when we show them the financial benefits of this process too.  And what has surprised us the most is the willingness to act, to be a part of the solution. But also because it makes economic sense.
Since we became zero carbon 5 months ago, our sales have grown by 40% domestically and that percentage is continuing to increase. We have gained a huge amount of free publicity and have encouraged other companies to consider putting their marketing budget into doing good for a similar response.
WHAT DO WE NEED TO MAKE NELSON CARBON-NEUTRAL AND A BLUEPRINT FOR EVERY CITY GLOBALLY?
 We need support. We are lucky to have a huge amount of support for our business but community change is not something we have embarked on before.
To ensure global change we need to start with our community in Nelson, New Zealand. Our Mayor has declared Nelson in a State of Climate Emergency. We need to ask our community how they as people would like to respond to the biggest global issue of our generation. And how do we as businesses want to respond? When that answer is the same we will begin to see great change. Business will start seeing their obligation to act and as the changing tide of consumer and employee preferences shift they will start being rewarded for it. Business as Usual is shifting. The bottom line is changing and we must get the our environment and communities back in the black.