CHIA JAM THUMBPRINT COOKIES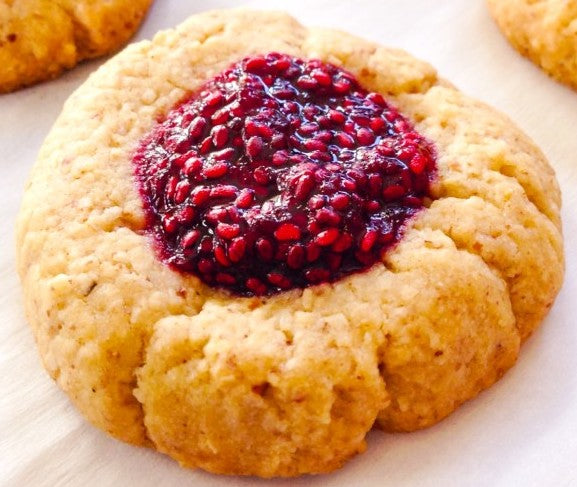 Thumbprint Cookies
Recipe by Jess the author of Choosing Chia - a blog that aims to inspire finding healthier alternatives to satisfy sweet tooths (these cookies are a case in point - trust us). 
These vegan thumbprint cookies are one my favourite, and they're 100% vegan, gluten-free & clean-eating.  They're even healthy enough to eat for breakfast! (I mean, cookies for breakfast, sign me up.)  Now, before you run off and say "huh? how can a cookie that's all those things actually taste that good?" give these ones a shot.  They will not disappoint!
Ingredients
Raspberry chia jam
2 cups fresh or frozen raspberries (or mixed berries)

3 tbsp maple syrup

2 tbsp chia seeds
Shortbread Cookie
½ cup gluten-free oats (or regular)

1 cup blanched almonds

pinch of salt

¼ cup coconut oil

3 tbsp. maple syrup

½ tsp almond extract
Instructions
Preheat oven to 180°C

Start by preparing the raspberry chia jam

In a saucepan, cook the raspberries on medium-high heat for about 5-10 minutes.

Once the berries begin to bubble, turn down the heat to medium-low and allow to cook for another 5 minutes.

Add the maple syrup and chia seeds and cook another minute.

Remove from heat and let cool.

Prepare a baking pan with baking paper, set aside.

In a food processor, blend oats, almonds and salt together. Transfer to a large bowl.

In a separate bowl, melt coconut oil, then add maple syrup and almond extract.

Pour liquid mixture into dry ingredients and stir until a dough forms.

Using your hands, roll small balls of dough, and then slightly flatten into a patty shape onto your baking pan.

With your thumb, press down into the centre of each ball to form a little indent for your chia jam.

Place a small spoon of jam into the centre of each cookie.

Bake for 15-20 minutes, until cookies are golden around the edges

Let cool and enjoy!