You Can't See The Problem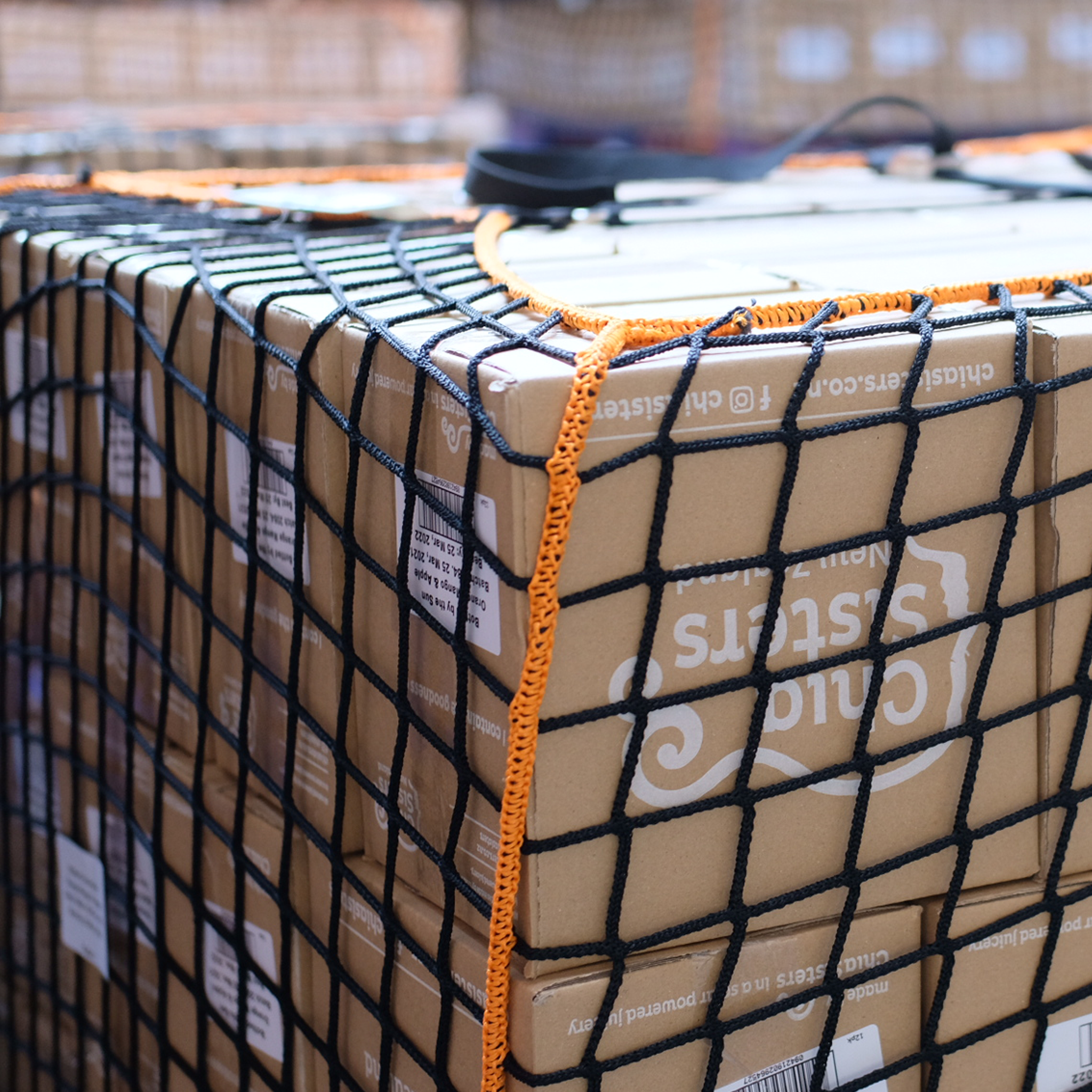 You have to have your wits about you while walking down the supermarket aisle. Product packaging tells you a story it knows you want to hear. Images and colours are designed to make you think handmade, healthy and sustainable. Extensive customer research has gone into understanding you and creating packaging that makes you feel good about the companies you're buying from. 
The truth is, the majority of environmental and social damage businesses are responsible for happens behind the scenes. It's in the supply chain, on the factory floor, and in the warehouse - well before you see a pretty label on the supermarket shelf.
We consider Chia Sisters to be an environmentally friendly company, but we still have plenty of work to do. One issue familiar to nearly all product businesses is pallet wrap, a single-use plastic film used to strap cartons of product onto a pallet to stop them from falling off. Even just to move a pallet from the factory floor to the warehouse, you have to wrap it in pallet wrap.
At Chia Sisters, we used to produce our drinks in our factory, place them on a pallet, then wrap each pallet in 30m of single-use plastic film so that we could move them by forklift to our warehouse 20m away. We would then unwrap the plastic (which could not be used again) to despatch the cartons individually to people, cafes, and supermarkets throughout New Zealand.
The soft plastic pallet wrap was put into soft plastic recycling. This has the unfortunate effect of making it seem okay but it doesn't take much research to discover that it really really isn't. We called our soft plastic recycling provider to find out what they do with the pallet wrap. They told us they pick it up and send it to another company, who ship it 3,500 nautical miles to Indonesia to make it into a resin. They don't know what happens to it after that. This is business as usual. It's not working.
The solution is obvious, but it first takes the mindset to see 'business as usual' as a problem.
As we move towards zero waste, we are replacing single-use plastic pallet wrap with reusable rope covers for all warehouse movements within our factory. These are nets that go over the pallet during production, safely hold the cartons in place, and then can be removed and used again. Simple and obvious.
The nets cost around $70 per cover (or if you are part of Businesses for Climate Action we have worked out a collective rate). This means that it is not only the right thing to do but also makes economic sense.
Doing this will save four cubic meters of single-use plastic this year and that's just step number one. Next on the list will be a solution for transporting pallets throughout New Zealand. Some top contenders for this are Pallitte who have set up covers that can be tracked and reused by being passed from one company to the other similar to Chep pallets, and the other is Lock n Pop, a water-soluble and environmentally friendly glue that doesn't require the pallet to be wrapped, and while it stabilises the cartons when they're together, it also allows them to pop off when they need to be separated.
This is one example of the many ways we need to learn to do better business and work behind the scenes to improve, but there are many many more. Another that comes to mind is how supermarkets require a product to be sent to a distribution centre, often only to be sent back to the region they came from. For example, to supply certain Nelson supermarkets, we have to send our drinks to a Christchurch distribution centre which then sends them back up the country to Nelson?!
The way we do business needs to change, the systems we use need to change, and to do that we need to learn the basics of working within a finite world. Put simply, we need to stop using resources faster than they can naturally be made and we have to stop producing waste and emissions faster than they can naturally biodegrade or be reabsorbed.
We would like to thank the Nelson City Council for their Waste Minimisation Grant which helped us replace our pallet wrap with reusable covers and has assisted many other waste minimisation projects.