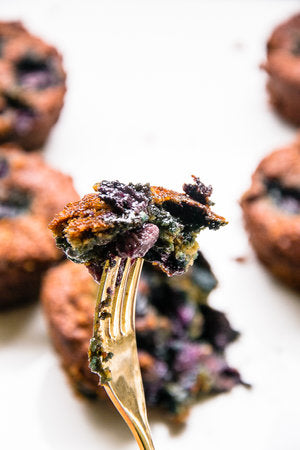 These gooey blueberry vegan, refined-sugar free, plant based and dairy free CHIA muffins are created by the woman behind Wellness with Taryn
Blueberries are one of my staples in the kitchen. They're so incredibly delicious, loaded with antioxidants and the perfect snack being not too high in sugar. I always have a bag of frozen blueberries in the freezer, and generally like to have them in breakfasts, as well as with coconut yoghurt as an after dinner sweet treat. Today this kitchen staple is starring in this Blueberry Chia Muffins recipe!
Combined with the delicate blueberry flavour of CHIA drink and the softly baked whole blueberries, these muffins are the shizz nizz! They're not light and fluffy, but instead they're decadently moist, gooey (without seeming uncooked) and full of the most delicious flavours. They really are so delicious, that I could not get enough of them and this batch did not last very long at all! Woops!
Ingredients
1Cup Organic Almond Meal
1/2 Cup Organic Wholemeal Spelt Flour
1 1/2 Tsp Organic Bicarbonate of Soda
2 Tsp Organic Baking Powder
1/4 Cup Desiccated Coconut
1/2 Tsp Sea Salt
1/2 Cup Organic Coconut Sugar
1 Large Banana- Mashed
1Tsp Pure Vanilla Extract
2TBS Organic Cold Pressed Olive Oil
1/2 Cup Blueberry CHIA Drink
3/4 Cup frozen Blueberries 
Instructions
Preheat the oven to 180C (fan forced) and lightly grease you muffin tray with olive oil spray (or coconut oil).

In a large mixing bowl, add all the dry ingredients and mix well.

Make a well in the centre of the dry ingredients and add the remaining wet ingredients (all except the frozen blueberries). Mix well.

Gently fold in the frozen blueberries until fully combined.

Spoon the mixture equally into each muffin mold and place a few of the frozen blueberries on the top.

Place into the oven and bake for 15 mins. Rotate the tray and turn the temperature down to 140C and bake for a further 15 mins. These muffins don't give much of a rise, but they are so delicious non the less.

Remove from the oven and leave to cool fully. Use a non scratching implement to help remove them from the tray. Store in an airtight container for up to 4 days.
Recipe Notes
 Health Benefits of chia seeds: Their high concentration of the plant-based omega-3 fat alpha-linolenic acid (ALA) is one of their major claims to fame. Chia seeds contain up to 40 percent oil, with 60 percent comprised of omega-3. ALA is considered essential because your body can't make it, so you need it in your diet—or its long-chain animal-based derivatives (like the omega-3 found in seafood and krill oil).
Trying to avoid using refined white flour (due to it being high GI) along with not wanting to use a gluten free flour blend (as these tend to send my sugar levels on a roller coaster ride), I opted for using spelt flour. I know spelt flour is not gluten free, but I find I can tolerate this flour quite fine in moderation, with no discomfort in the stomach region.
Spelt is a wholesome nourishing flour that is super high in fiber, as well as having high levels of iron and copper which can significantly boost circulation. Spelt also contains essential vitamin Niacin which plays a key role in the adrenal glands in the body and thus hormone regulation and creation.