CHIA + CACAO COOKIES BY 7010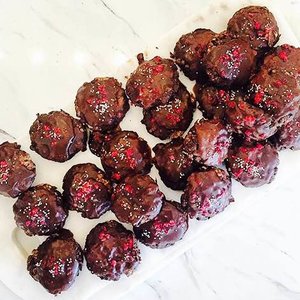 CHIA + CACAO bites of goodness crafted by our very own 7010: vegan, gluten free, and refined sugar free-
Wet Ingredients
1/2 cup of smooth nut butter
1/2 cup your favourite CHIA drink
3 tablespoons (45 mL) virgin coconut oil, softened but not hot
1/2 teaspoon pure vanilla extract
Dry ingredients
1/2 cup (50 g) gluten-free rolled oats (add coconut flour for substitute)
3/4 cup gluten-free baking flour (your own or a great substitute)
1/2 teaspoon baking soda
1/2 teaspoon pink Himalayan salt
150g 55% non-dairy non-sugar dark chocolate (about 1 1/2 bars)
OR 150gm of Coco & Cacao mix
Directions
Preheat oven to 180degrees and line a large (approx. 21 by 15 inch) baking sheet with parchment paper.
2. In a large bowl, stir together the wet ingredients until smooth.
3. Stir the dry ingredients into the wet mixture, one by one, until thoroughly combined. The dough will be a bit wet/oily, but this is normal.
4. Chop the chocolate into small chunks. Set aside 3 tablespoons (for topping the cookie dough later), and stir the rest of the chocolate into the batter until combined (add cacao here).
5. Use a large cookie scoop (or a spoon and your hands), scoop mounds of dough (about 2 1/2 tablespoons of dough per cookie). Add each onto the baking sheet, about 8cm apart, as they'll spread while baking. (If the mixture is too crumbly add more chia or coconut oil until you get a cookie dough mixture).
6. Press the remaining 3 tablespoons of chocolate onto the tops of the cookie dough mounds, evenly distributed. (Reshape the cookie dough mounds if they flatten a bit.)
7. Bake for 8 to 10 minutes (I prefer 8 1/2 to 9 minutes for gooey and soft cookies), until the cookies are spread out. If you prefer a crispy cookie, bake for about 12 minutes.
8. Cool the cookies directly on the baking sheet for about 5 to 6 minutes. The cookies will be super delicate until they are cooled. Using a spatula, gently transfer each cookie directly onto a cooling rack for another 10 minutes, where they'll firm up even more.
9. Melt down in the microwave the rest of the chocolate & some chia drink and mix together drizzle or drown each cookie once they have cooled and then place in fridge to set the Chia Choco icing..
10. Enjoy!